ZKT-750B
Window Patching Machine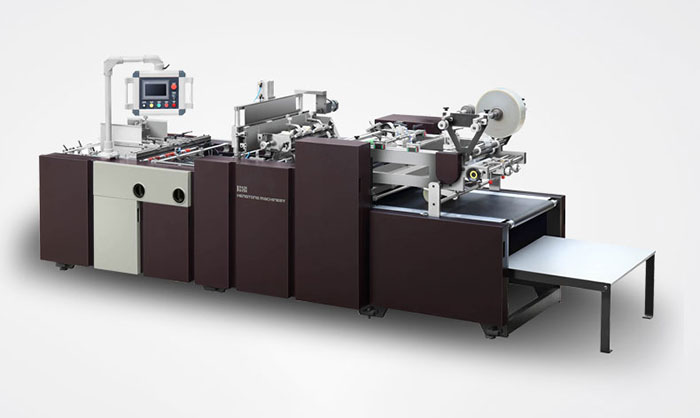 product details
Technical parameter
Paper feeder:

The paper feeder is driven by a servo of a famous brand. Paper is delivered on the bottom via an intermittent belt,so paper can be fed continuously without shutdown, The paper feeder id controlled by PLC. It has a human-machine interface,on which you can enter the length of paper to be fed, so that paper can be supplied quickly and accurately. Also, the paper feeder applies to card paper and corrugated paper.
Film feeder:

(1) It is easy to adjust the basic part of the film feeder left and right in parallel.
(2) The film feeder is controlled by a servo control system of a famous brand .It is only required to enter the length to be cut on the touch screen,which improves accuracy and makes adjustment easy.
(3)The film cutter is equipped with a freely-moving device to fit different windows,which helps reduce adjusting time and improve efficiency.
(4)The film feeder can cut corners and press lines automatically. It applies to products subject to single(double)line pressing and comer cutting.Also it can be adjusted at will
Sizing section:

(1)The sizing section consists of chromed sizing roller, glue separating guide,side limiter and sizing template roller.it is easy to pull out,set and clean the sizing section.
(2)The glue separating guide can be adjusted to control the range and amount of glue .In the event of shutdown,the cylinder can raise the sizing roller and it is driven by the other independent motor to avoid glue solidification
(3)Without shutdown,the printing roller can be adjusted freely on an axial or radial basis
Paper collector:

The paper collector is designed as a belt and final product can be stacked orderly
Main technical parameters:
| | |
| --- | --- |
| Speed | 4000-10000pcs/h |
| Paper Length | 120 - 600mm |
| Film Length | 60-400mm |
| Film Width | 30-400 mm |
| Film Thickness | 0.03-0.25mm |
| Paper GSM | 250 - 1000g |
| Film Thickness | 0.05 - 0.25mm |
| Voltage | 380V,50Hz,3P4L |
| Power of Pump | 2.2 kw |
| Main Power | 2.2 kw |
| External Dimension | 5000*1400*1500 mm |
| Weight | 2500 kg |


Production Process

Sample